We've attended Leancamp London a few days ago and I have to say it was not only one of the most amazing unconference experiences I ever had, also the signal to noise ratio was nothing short of incredible.
A Lean Melting Pot
For me the main benefit was having people with very different backgrounds in one place. That way it was easy to get out of groupthink and into hands-on discussions about how to build better products and how different disciplines approach that idea. Therefore the sessions were quite diverse, covering areas such as
Lean Startup
Visual Thinking
Design Thinking
Business Model Innovation
Agile & XP
Customer Development
Lean UX
Customer Journey Maps
Interaction Design
Visual Note Taking
Flow
Financing
…
It was fascinating to observe a common language emerge as everyone shared their background and their lessons learned about continuous improvement and feedback loops. Many discussions circled around how …
… different disciplines affect the overall outcome of a venture
… to assess risk and value across them
… to use visualization & communication to break up barriers between them
We've took a ton of notes and will try to write up our thoughts, conclusions and lessons learned over the next few days.
Fishbowl with Eric Ries
Not surprisingly "breaking up silos of different disciplines" in product development also was a topic in the fishbowl interview with Eric Ries. You can watch the recorded session below:
Some Highlights:
How do internal Startups differ from Garage Startups?
Your Science is only as good as your Hypothesis
You will be embarassed by Version 1 so get it over with
Pivots: what do I really care about and what is just a Way of getting there?
What we need to do is: Unite the Clans
Isn't this just the stuff we've been doing all along?
Session: Metrics Lessons Learned
Andreas Klinger of Lookk and Dan Hill of CrashPadder held a session about their journey to actionable metrics. It was a fun talk and at the same time very valuable to see what they learned from focusing on fewer but far more meaningful user engagement metrics.
http://www.slideshare.net/andreasklinger/metrics-lessons-learned-leancamp-london-2012
Some highlights:
Focus on Retention
Retention = ƒ(User Happiness)
Beware of Dataschmutz
Metrics need to hurt
Talkaoke
Additionally to the sessions there was an ufo-like table in the lobby with a mad talkshow host sitting in the middle. The guy moderated ad-hoc conversations on various topics by inviting onlookers to chime in. Apparently the format is called "Talkaoke" and a great way to facilitate knowledge sharing in open space events.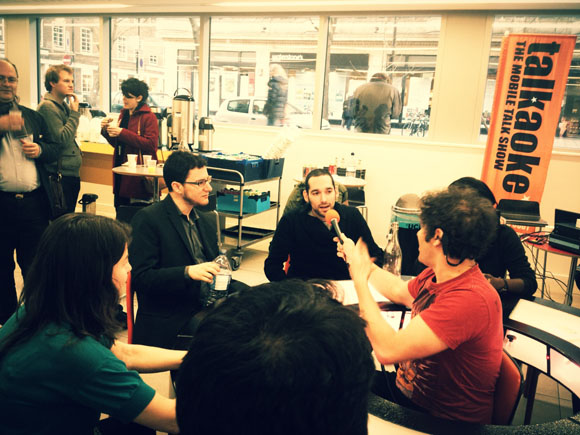 Leancamp on Lanyrd
If you want to re-connect with participants you met at the event or just want to get in touch with people who care about lean product development, check out the Lanyrd profile page of Leancamp London #2.
There you'll also find a ton of coverage material such as tweets, slides and photographs.